Croutons
Belgium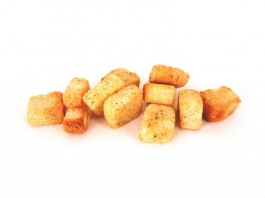 History
The word Crouton first appeared in the 17th century in France in reference to these little cubes of toasted or fried bread cut from the crust and served with drinks.
Nowadays, croutons are famous for their use in Caesar salads or warm and cold soups such as Gazpacho or fish soups.
Sensorial attributes
To add colour to all your dishes, we can provide you with, natural, spiced, cheesed, fruity or oiled croutons and much more.
Quality label
Our croutons are certified by Fedis ( Belgium )
Recipes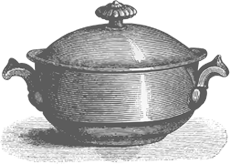 CAESAR SALAD

For the salad:
2 hearts of romaine lettuce or lettuce leaves
25g of parmesan (shavings)
Croutons (equivalent to 4 slices of bread)
2 tablespoons of oil

For the sauce
1 egg
25g of grated parmesan cheese
2 teaspoons of capers
1/2 teaspoon of mustard
1 dash of Tabasco
Juice of 1/2 lemon
1 clove of peeled garlic
15cl of oil
Salt and pepper

Brown the croutons in a little oil.
Tear the romaine lettuce leaves in a bowl and add the croutons that have been blotted with a paper towel.
Prepare the sauce:
Cook the egg for 1 min in boiling water and leave to cool
Chop the egg into a blender and mix with the other ingredients
Add the seasoning to the salad.
Garnish with Parmesan and serve.