Endives
Belgium / Holland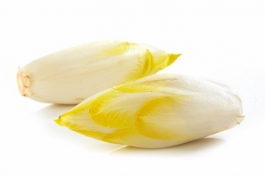 History
Chicory was discovered in 1830 in the Josaphat valley. There, a Belgian farmer is said to have hidden his harvest in a dark cave during a troubled period when Belgium was fighting for its independence. Kept under manure in the dark, his wild chicory produced after twenty-five days white leaves, this discovery became from then on a method of growing chicory.
This type of growing, known as "forçage", is now used during winter to protect the roots from frost and the light. In Flemish, its white leaves are called Witloof, the original name of chicory.
Sensorial attributes
The cultivation of chicory takes place in two stages and it is considered to be one of the most difficult vegetables to grow. The first stage occurs in spring when seeds are planted in fields until the roots start to grow. During autumn and winter, these roots are harvested and taken for the second stage when the leaves grow following the "forçage" method, similar to the method used for growing mushrooms. This Belgian method offers a more natural product as there is no need for pesticides.
Chicory is composed of 95% water. It has a subtle bitter taste that gives it its character.
It can be eaten raw in salads, with cheese, nuts or apples. Cooked, it is appreciated for its soft texture.
The product in Art & Culture
Every last weekend of February, this unique vegetable is celebrated on 'Chicory Day'.
Quality label
Our endives are Globalgap certified
Recipes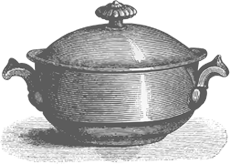 HAM AND CHEESE CHICORY

1kg of chicory
4 slices of ham
1 pot of heavy whipped cream
2-3 garlic cloves, depending on size
1 bag of grated cheese
1 knob of butter

Let the chicory cook in boiling water
When they are cooked let them drain
Melt a little butter in a pan, add the crushed garlic and then pour in the cream, add salt and pepper and then the grated cheese
In a baking dish, place a layer of chicory, a layer of ham and a layer of cream preparation, repeat and complete with the rest of the grated cheese on top
Bake for about 20 minutes