Pink garlic of Lautrec
France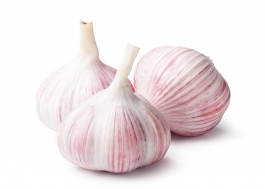 History
Born in the Middle ages under the name of Ail Rose de Lautrec, legend has it that in the region of Lautrec in the south of France, a wandering penniless merchant paid for a meal with a mysterious pink garlic. Surprised by this pink garlic, the tavern owner decided to plant it and grow it. And so was born the legendary Ail Rose de Lautrec.
Sensorial attributes
Lautrec's Pink Garlic is famous for its remarkable taste: sweet and subtle, its flavor is gentle on your taste buds and spices up all your dishes It is harvested each year in the last week of June and then dried for two weeks, either in the field or in large barns. Following this the outer skins are carefully removed to reveal the pink inner layers, the roots are cut back and the garlic is wrapped into bunches.

The Pink Garlic is a "hardneck" variety which means that its stalk is solid and cannot be braided, it is therefore wrapped into bunches or grappes as opposed to the strings made from the "softneck" varieties.

The garlic can remain edible until well into the following year if kept in dry or cool temperatures.
The product in Art & Culture
Since the 70's, every first Friday of August in the region of Lautrec a unique fair is held to celebrate l'Ail Rose de Lautrec. This unique event for a garlic is a moment when all can share art pieces, recipes and events related to l'Ail Rose de Lautrec, including the nomination of Miss Lautrec's Pink Garlic.
Packagings : we offer the pink garlic in various packs from loose 5 kg open carton to 250g net, also 500g and 1kg braids
Quality label
In 1959, the farmers of Lautrec created the "Syndicat de Défense du Label Ail Rose de Lautrec" to safeguard the incomparable quality and authenticity of this product.

In 1966, this resulted in the obtaining of the Red Label which guarantees the superior quality of the pink garlic of Lautrec.

In 1996, a European protection (PGI – Protected Geographical Indication) was also obtained.
Recipes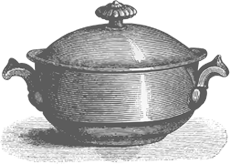 LAUTREC'S FAMOUS PINK GARLIC SOUP

2000 ml water
10 cloves of lautrec pink garlic
1 egg white
150g vermicelli
5ml mustard
1 egg yolk
oil
salt and pepper

Pour the 2 liters of water into a large pot and bring to a boil.
Add the crushed garlic and egg white. Season with salt and pepper and combine well. Cook for 3 minutes.
Add the vermicelli and cook 3 minutes longer.
Prepare the mayonnaise by combining the egg yolk, mustard, salt and pepper and gradually whisking in the oil.
Thin it with a ladleful of warm broth and mix gently into the soup.
Serve hot.