Roscoff onion braids
France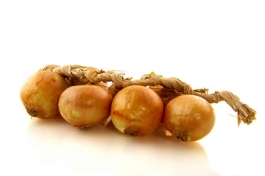 History
The history of the pink onion of Roscoff begins in the 17th century when Friar Cyril returned from Lisbon to Roscoff (in Brittany) with seeds of a very particular pink onion. However, it is only during the 19th century that the Roscoff pink onion became famous when a young peasant travelled to England by boat to sell these onions. They instantly became appreciated and famous. The so-called "Johnny" phenomenon started from then on, as the region of Roscoff is called "Little John" (Petit Jean) and merchants of this onion became known as "Johnnies".
Sensorial attributes
The Roscoff onion is easily recognized by its unique internal and external pink colour.
Raw, its smell is fruity and its texture is crispy and very juicy. Its sweet and slightly spicy taste allows it to be used in salads.
Cooked, it develops its sweetness and fruity taste and its texture becomes tender.
It also takes less time to cook than other onions.
The product in Art & Culture
Every August since 2003, the "Fête de l'oignon de Roscoff" is held to celebrate the history and heritage of the Johnnies.
Quality label
The Roscoff pink onion benefits from the AOC certification that makes its quality unique and certified.
Recipes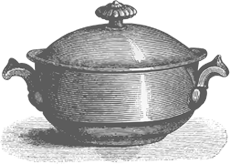 ROSCOFF PINK ONION PIE

8 large Roscoff onions
Short crust pastry
3 tablespoons of sour cream
2 tablespoons of flour
100g of grated cheese
3 eggs
30g of half salt butter
Salt and pepper

Peel and slice the onions
Heat the butter in a pan and slowly fry the onions over a medium heat
Season with salt and pepper and let them cook for about 15 minutes
When they are cooked, sprinkle with flour and mix well
Preheat the oven to 220°C (gas mark 7)
Spread out the dough in a pie dish
Beat the egg, add the cream, a pinch of salt, the onion compote and mix well
Pour this mixture over the short crust pastry
Sprinkle the cheese over the mixture
Bake it and let it cook for 35 minutes until the top is golden brown
Serve hot or warm as a starter or with a salad.